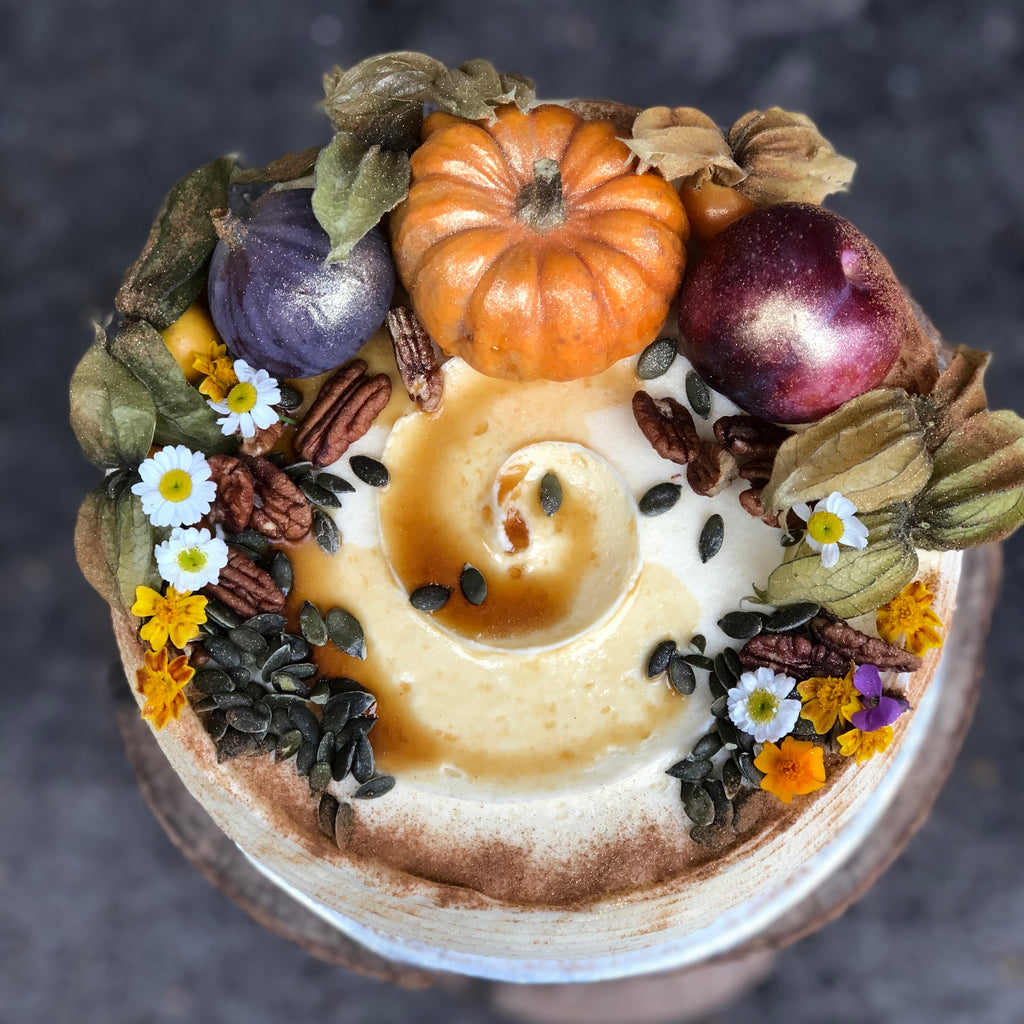 Pumpkin & Maple Syrup
PUMPKIN & MAPLE
Indulge in autumnal flavour with Pumpkin & Maple Syrup! This delectable dish is spiced to perfection with a blend of cinnamon, nutmeg, and ginger. Fill your belly with sweet pumpkin and sticky maple syrup, all moist and creamy beneath a smooth cream cheese frosting! Yum!
INGREDIENTS
Sunflower Oil, Mixed Spice (Cinnamon, Ginger & Nutmeg), Caster Sugar, Dark Soft Brown Sugar, Whole Eggs (EGG), Self Raising Flour (GLUTEN & WHEAT), Vanilla Extract, Cream Cheese (MILK), Icing Sugar, Seasonal Berries, 

DECORATION
The images are a meant as a guide only.

NOTE: Fresh mini pumpkins (munchkins!) are subject to availability and too large for a baby cake!
Our cakes are unique, produced individually to order and hand finished. We always use our discretion when selecting decorations for your cake, and every cake will always look beautiful and always appropriately finished. 
Your cake may vary from the images shown. 
EDIBLE FLOWERS
These are not supplied as standard decoration, you do need to order them in addition to your cake, we will decorate your cake with your flowers.

Our supply of edible flowers and fresh fruit varies from week to week and season to season. We cannot guarantee colours or variations - you will need to trust us (& Mother Nature), at certain points in the year edible flowers are not available. 

We do not write on cakes
DELIVERY OR COLLECTION?
Yum. This cake is for COLLECTION only.
Select 'store collection' at the checkout.
Be sure to complete your date and time when checking out, without this, your order is not confirmed
---
---
More from this collection